MAURTEN GEL 100 12X40gr
Αυτό είναι Το GEL. Είναι μια τολμηρή δήλωση. Αλλά παρ' όλα αυτά αλήθεια. Από τεχνικής άποψης, τα παραδοσιακά gel είναι από νερό και υδατάνθρακες απλά αναμεμειγμένα σε σιρόπια, που συχνά περιέχουν πρόσθετες γεύσεις και συντηρητικά. Το GEL 100 είναι τελείως διαφορετικό. Πρόκειται για μια μήτρα βιοπολυμερούς, γεμάτη με ένα μοναδικό μίγμα φρουκτόζης και γλυκόζης (λόγος 0,8: 1) που επιτρέπει την πρόσληψη έως και 100 γραμμάρια υδατανθράκων ανά ώρα. Το GEL 100 είναι δομημένο με τεχνολογία φυσικής υδρογέλης και με έξι φυσικά συστατικά. Δεν περιέχει καθόλου χρωστικές ή συντηρητικά και έρχεται σε 40gr μερίδες που περιέχουν 60% υδατάνθρακες – υψηλή αναλογία βάρους προς ενέργεια. Περιέχει 25g υδατανθράκων ανά μερίδα. Μπορεί να χρησιμοποιηθεί πριν, κατά τη διάρκεια ή μετά από δραστηριότητα.
Nutrition facts
PER 100 G / SERVING (40 G)
Energy
1683 kJ, 400 kcal /
663 kJ, 160 kcal
Fat
– of which saturates
0 g / 0 g
0 g / 0 g
Carbohydrates
– of which sugar
99 g / 39 g
32 g / 13 g
Protein
0 g / 0 g
Salt
1 g / 0.4 g
INSTRUCTIONS

Consume the gel minutes before, during, and/or directly after activity.
Together with coaches, athletes, and nutritionists, we have developed The Fuel Guide as a resource to help you fuel more accurately in your training sessions.
To view The Fuel Guide visit maurten.com/fuelguide
AMOUNT OF ENERGY
It is well known that our bodies can make use of about 60 grams of ingested carbohydrates per hour, in the form of glucose or maltodextrin (glucose polymer). Using a 0.5:1 combination of fructose and glucose/maltodextrin, allows uptake of up to 90 grams per hour. More recent studies have shown that increased fructose content, above 0.5:1 enables an even higher uptake. The GEL 100 is based on a 0.8:1 fructose-to-glucose ratio. One serving contains 25 grams of carbohydrates.
HOW DOES IT WORK?
GEL 100 is built on hydrogel technology*. The hydrogel enables a smooth transportation of the carbohydrates through the stomach to the intestine where the water, salt, and carbohydrates are absorbed.
*Patent pending.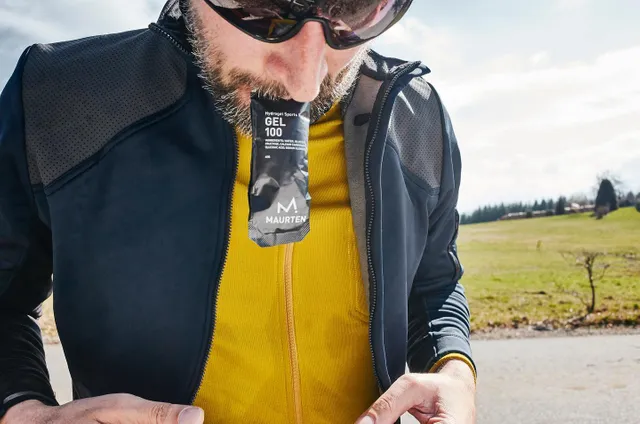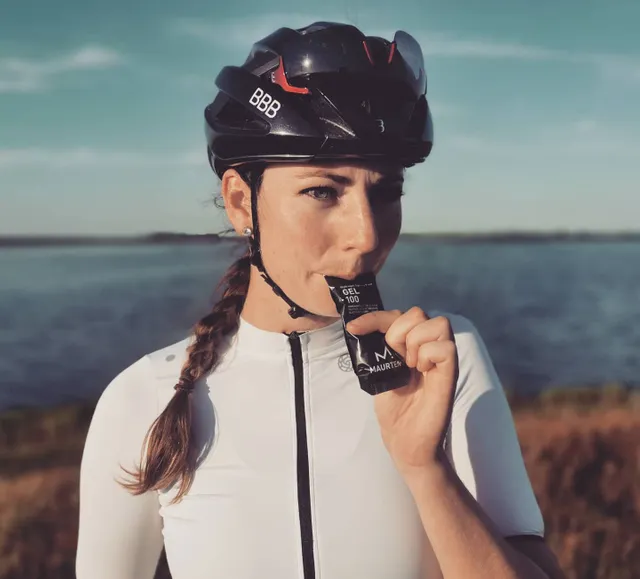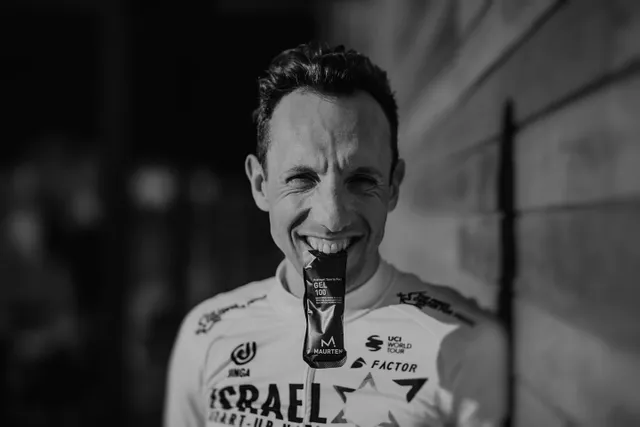 Ingredients
BY PROPORTION
Maltodextrin
Fructose
Pectin
Sodium alginate
Sodium chloride